You know that the time spent somewhere has been special when nostalgia creeps in before you have even left. I feel fortunate for these months in Jodhpur and benefited by having spent my period of initial adaptation in one city. I wonder how different are the experiences of other tourists; those who hit ten cities in as many days before flying home. It took me nearly a week just to get over my jetlag. It is hard to imagine that a two-week traveler could do the same and also begin to digest this immensely diverse country. I am sure that there are advantages to such a style of travel. Each day is fresh, and unseen. Each sight is spectacular. However, there is a disconnect when you spend each night in a different bed. It is easy, if not compulsory, to observe and appreciate sights but it takes time to connect with and try to understand people. My interactions with people have defined my summer here in Rajasthan.
I will miss Govind, the owner of Durag Niwas Guesthouse, his wife, Mukta, and their young son Ayush. I never ceased to be amused by Govind's complaints about certain unsavory or difficult guests. I was always impressed by his passion for addressing the many social injustices that, growing up here, he has seen firsthand. That a man my age has successfully implemented an effective non-governmental development organization (www.sambhali-trust.org) in this socio-political environment is truly extraordinary. I look forward to a continued friendship and to following his organization's progress in bettering the lives of so many at-risk women.
Govind's guesthouse has been a blessing. I couldn't have hoped for the company of a kinder family or more caring staff. I will miss Bunti and Pintu, the day-to-day managers who always smiled in passing even when such accommodation had become unnecessary. Towards the end of my stay I have often become uncomfortable asking for guest services as I have felt more like a clan member than a paying tenant. After putting up with a dripping shower for most of my stay and then over the last week resorting to showering with a bucket and cup, I finally asked Pintu to fix it for me. A few hours later, he had torn the bathroom wall down, fixed the broken pipe, and patched it back up. It's great to have a nice working shower now; I just wish I had asked sooner than five days before I leave.
I have enjoyed the tireless spirit of Pauol Singh and Sunil, the Nepalese cooks who always seem to be laughing at a joke to which I am not privy. They always make fun of me when I forget to wear shoes when opening the refrigerator; without grounding, the handle of the 1970's era icebox gives a startling electric shock. I hope when I return to Jodhpur in December that my improved Hindi will enable conversation with the two boys.
I will miss, Shakti, Govind's stout younger brother. I always got a kick out of running into him around town, proudly steering his murder-black Enfield Bullet through traffic. Sometimes I would salute him as I motored past on my comparatively wimpy Honda Hero. Shakti's style always seemed well suited to his machismo personality. His only apparent fashion requirements seemed to be mirrored aviators and T-shirts sufficiently short sleeved to show off his bicep tattoos.
The guests at the guesthouse have also been great. Many of them have been volunteers for Sambhali Trust. Many of them like minded, and similar in age to me, they were usually up for an excursion to a nearby town or in-city tandoori pit
------------------------------------------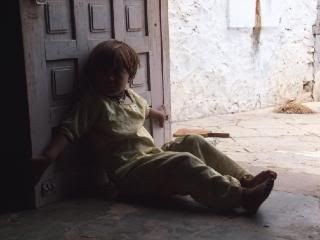 ------------------------------------------
One of the most satisfying aspects of spending an extended time in one city is that people begin to recognize you. Whether the security guards at National Handloom who bend the rules in allowing me to enter the store with my messenger bag, or the guys at Makhania Lassi who always grin when I park my bike illegally in front of their juice stand, it is always comforting to be something more than a stranger in this strange place.
One night I walked past an unrecognized man in the parking lot of a restaurant.
"One dosssaaaa," he said with a gruff but friendly tone.
"Excuse me?" I asked, startled by his comical reference.
"You are one dosssaaaa gora," he repeated. "I see you all days at dosa cart on MG Rd."
Apparently he had overheard me ordering breakfast at my favorite street-cart and found funny the way I had asked for the South Indian crepe-like snack.
The dosa-wallah himself had also come to know me. He would thoughtfully use the less greasy corner of his shirt to clean my plate and came to predict my dietary preferences as well. For breakfast he knew that I would have one "dosssaaaa" masala. In the afternoons he would serve me idli sambar. After the first half-dozen times, I never had to ask for either again.
I'm sure that I will miss Vicky, the omelet-wallah whose cart, depending on the position of the sun, was always parked either just inside or outside the northern gate of the clock tower bazaar. He always teased me whenever I walked by.
"Oh Benja-bhai! Have you finally come for my delicious omelet? I have telling you my omelets are world famous but today's are better than evers before!"
I would always sit down and talk with Vicky for a minute but not once in the months that was in Jodhpur did I try his omelet. Maybe I'll have one when I return in December. Afterall, I am sure that then they will be "evens better" than before.
It's always unexpectedly fun to run into one of the guys from the gym. One night I was having dinner with some friends at the Park Plaza Hotel. At first I didn't understand why the chef had come from the kitchen to shake my hand. That was until I realized that the man under the silly white chef's toque was, Digpal, the same guy from the gym with the silly yellow pants.
Sometimes a rickshaw-wallah, recognizing me from my pre-motorcycle days, will pull up next to me for a chat while we cruise down High Court Rd.
I'll miss the guard with the walkie-talkie, a young off-duty policeman outside of the haveli on the way to work, with whom I always shared an acknowledging "dude nod" as I sped past.
------------------------------------------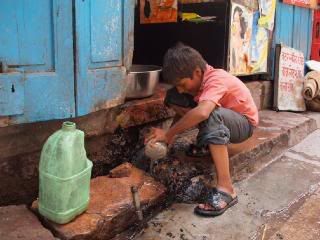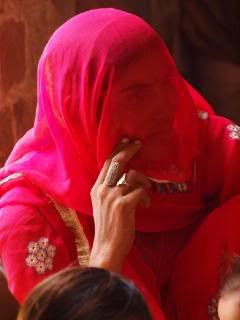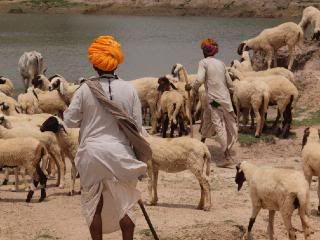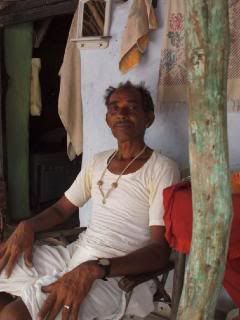 ------------------------------------------
I believe that people are profoundly shaped and sometimes even defined by their surroundings. It is no wonder then that in an amazing place as Jodhpur live such incredibly warm, curious, generous people.
Each area of town has its own distinct flavor. Brahmapuri/Jalori, with its indigo-washed mosques and sizzling samosas, is vastly different from the clock tower bazaar, with its pyramids of spices and sulfurous rock salt.
Sardarpura has some of the swankier restaurants in town and is also the best place to go for western style clothing.
Near the cricket stadium you can find much of the same. There is even a starbucks-esque coffee shop. It can be challenging, however, to find anything on its menu that doesn't include a scoop of ice cream. If you ask for coffee sans ice cream the baristas look at you as if you've gone mad.
In my neighborhood, Raika Bagh, there are countless antique and trinket stores, akin to Houston's Montrose neighborhood and, similarly, a bohemian pack rat's dream.
Nearby, on Nai Sarak, you can find countless tie-dyers among the incense and pani puri carts…just come with hard candy or bananas: the beggars there are the town's most tenacious.
Also close to Raika Bagh, on the way to Mandore, is the bustling circle that intersects High Court Rd. If it's sunny outside – which it always is – you're sure to see 'Ole One Horn standing somewhere in the road, impervious, oblivious to the cars buzzing within centimeters of his long face. I guess that it IS time to move on when you begin to recognize the cows around town, to say nothing of naming them as well.
------------------------------------------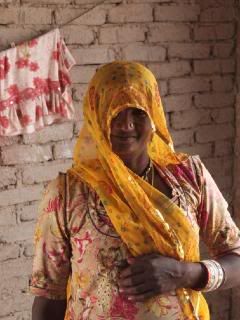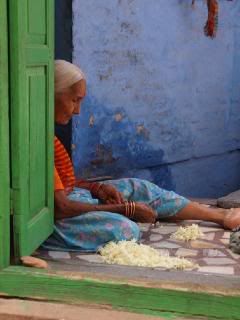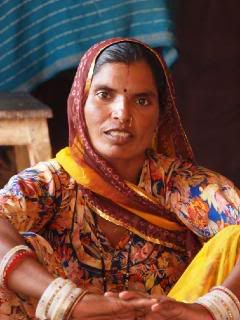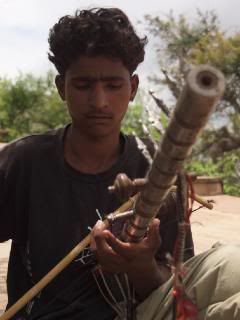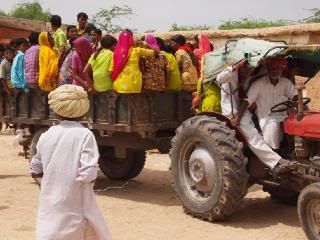 ------------------------------------------
I will admit that I am a little apprehensive about leaving Jodhpur. My experience of India has thus far been limited to Rajasthan. This is India's largest state. With its rolling deserts and fairytale hilltop forts, it is arguably India at its most majestic.
This place fulfills all of the romantic expectations one might have about this country. Flowing, vibrant saris in bustling incense bazaars. Mustached men dressed in white except for their blood-red turbans and pointed shoes. Camels and opium. Gold-hoop nose rings, spices, tie-dye, sabers, and monkeys.
I am sure that other places in India will surprise and thrill me as Rajasthan has. I know that those places will also be special to me. But I suspect that something about Rajasthan has been different.
For now though, I remain sentimental, sometimes pre-nostalgic, about the extraordinary summer that I have had here.
------------------------------------------
------------------------------------------