Sitting at my desk at work, I was a little startled when my phone rang.
"Let's get outa town this Sunday. Can you meet me at Raika Bagh in an hour?" asked Soham on the other end. Looking at my watch I knew that it would take me at least three hours to finish my work.
"Ya, I'm done here," I said. "I'll see you in a bit."
Six hours later, Soham, an ethnically Indian, American graduate student, Marion, also an ethnically Indian, but French, graduate student, Karen, an American college student, and I were stranded in darkness at a roadside dhaba in Ranakpur. The four of us had been living in Jodhpur for a collective ten months and, forces combined, made a pretty solid team. Soham, captain linguistica, fluent in Gujrati and proficient in Hindi, was able to organize a jeep ride to the town's only budget hotel and so, by nine o'clock we, plus two delightfully bohemian Italians, were getting drunk, talking about nothing under the moonless starscape of another Rajasthani night.
Sunday morning came quickly and the team was soon assembled over a breakfast of toast and chai. Ranakpur is not so much a town but a temple, hidden in the creeping jungle of the Southern Aravali Mountains. One of the most spectacular Jain temples in all of northern India, it is a popular pilgrimage site for Indian and foreign tourists alike.
Before visiting the temple though, we wanted to do something physical. The Italians had told us of an incredible hike that they had taken from our hotel the previous day.
"Be sure to hire a guide," one of them had said. "The jungle here is teaming with panthers and wolves," chimed the other.
Unless the guide carried a rifle, which was doubtful, we reasoned that we would be no safer accompanied by a professional than not. So, after breakfast the four of us set off into the dew dripping forest.
We crossed a dry lake basin and followed its source, a drier riverbed, up into the jungle. The four of us pushed through the dense greenery, sometimes stopping to circumnavigate an especially spectacular banyan tree. We could hear the 'wholps' of monkeys among other stereotypical rainforest sounds, but couldn't pinpoint from where the primates were observing, us, an intrusive gang of larger, less stealthy monkeys.
Scrambling up a steep hill for a more expansive view, I spotted one of them: its bewildered black eyes barely distinguishable from its shadowless ball of a face. The monkey must have sensed my predatory intentions because it turned and ran instinctively towards the crest of the hill, turning back frequently to see if I was keeping up. I was, and I yelled for Soham to hurry up if he didn't want to miss it. I wasn't but ten meters behind the monkey when I rolled over the hilltop and stopped in my tracks. Screeching and squealing, the scout monkey and forty others fled the area, tumbling down the backside of the hill, some catching hold of branches or vines and swinging themselves up and into the protective canopy.
Not long after, Soham came up behind me. Panting and mildly put off, "What were you yelling about? I'll miss WHAT?" he stammered.
"Oh… never mind. Have you still got those mangos?" I asked him.
The two of us sat on a rock ledge scanning the forest from above. We ate the mangos in the far superior, utensiless, Indian style: first squishing and bruising it between massaging fingertips before biting off the cap and sucking the pulpy purée through the hole.
Photo cred to Marion for this mango-eatin' action shot
Following the riverbed back to the hotel I was surprised by a water buffalo that arose from the brush only fifteen feet away from me. Suddenly recalling that buffalo in Africa account for a significant proportion of animal related human deaths, I implored the beast to think of Gandhi-ji and draw upon its Hindu influences – those being non-aggression and non-violence. As I eased past, the animal turned and stared at me with its lone, crystal-blue eye. The other, a hollow socket, I could only assume had been forfeited in some epic battle with an equally unwary, guideless, rifleless, American hiker.
The same jeep drove us back to the dhaba that the bus had dropped us at the previous night. We hadn't noticed in the darkness that the entrance to the temple compound was only fifty meters up the road.
------------------------------
- scenes from the dhaba hut -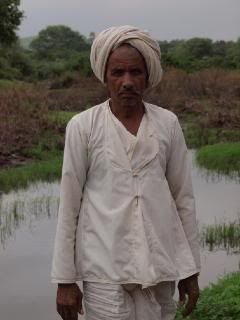 ------------------------------
Entering through a marble archway, I removed my belt and buried it in my messenger bag. Jains are strict vegetarians, even abstaining from "hot" foods such as garlic and onion. They do not wear leather shoes or leather belts, and believe that harming any living creature is a grave sin. In fact, the most observant Jains wear cheese-cloth masks so as to prevent the accidental killing of insects by inhalation. It is truly a shame that there are not more Jains in this world. I myself might be convinced were it not for the fact that I worship the gastronomic god of garlic. I suppose that that is the basic difference between people like me and the religiously devout; the pious abstain for the promise of eventual gratification whereas I want that 16oz ribeye now… with a side of garlic fries.
The ascending temple steps were shiny and depressed, rounded smooth by a thousand visitors every day for a thousand years. Stepping silently, barefoot through the front hall and into the grand atrium, I was completely floored. I have been inside the Dome of the Rock, I have cowered in the Church of the Holy Sepulcher. I have wandered through Westminster Abbey, Notre Dame, and Gaudi's Basilica. I have never seen such consummate symmetry, such carved perfection, as the Jain temple at Ranakpur. Unlike those other grandiose monuments of religion, the temple was unassumingly magnificent. It was awe-inspiring without giving way to pretentious overindulgence.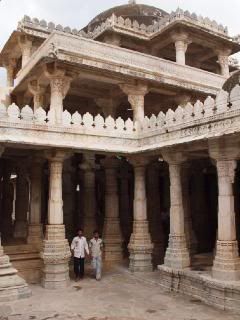 Hundreds of pillars supported the interior space in an expansive, airy hypostyle. The cavernous domed atriums swirled with concentrically smaller patterns until the intricate fractals at their apexes could seemingly be squeezed onto the point of a pin. In one room, a creeping, creaking oak tree illuminated the white marble pillars with a reflective green hue. A quarter-scale elephant, polished from the same stone as the surrounding pillars, reared its head, pointing its tusks towards the kaleidoscopic ceiling.
In each cardinal corner of the temple sat pilgrims perched on covered balconies that overlooked the leopard filled forest that draped itself over the upturned terrain. I didn't want to leave. I wished that we could stay longer, in the temple or in the forest with its unending trails and promises of predatory encounters. But we had a bus to catch and doubted that it would wait for us.
Sipping on a chai at the bus stop dhaba hut, I eyed the longhaired, white-robed man who puttered up on his scooter. Sometimes I chance upon someone whose relative purpose then and there seems to be for me to photograph them. Usually this is because their character, their self, is so effortlessly projected, seamlessly transmitted by their surrounding aura to even the most casual observer such as myself.
I sprung for my camera and began shooting. The man was thrilled and, chuckling, puffed out his chest with dignified regality as I circled him snapping my shutter furiously. Satisfied and smiling ear to ear we sat down at a table so that we were then facing each other. He ordered a cup of black tea. He ceremoniously declined the cigarette that I offered him. "Mera nama Benjamin hai," I began.
"I am Sadhu Ranakpur. I am Sadhu," he replied.
From what I have read, I have gathered that sadhus are ascetic holy men; shamanic Hindu wanderers who renounce their earthly relationships and pleasures in pursuit of the ultimate path to moksha – enlightenment.
The chai wallah brought his tea and the sadhu sipped it pensively. When he finally spoke, I didn't know how to respond.
"I no eaten foods for five years. Only black teas and chipatis."
I was admittedly a bit skeptical given the holy man's rather rotund frame but I kept quiet, instead nodding in mesmerized acknowledgement. I said nothing. I just wanted to listen. Would he afford me some hard earned scrap of wisdom? Perhaps some fate fought shard of brilliance?
Nope… he liked my shades.
"Real Ray-Bans?" the sadhu asked as he tried them on.
"Um… ya, I bought them back home," I managed, a little thrown off by his unexpected interest in my sunglasses.
"Bahud acha (very good)," he said as he took them off and set them on the table. We talked for a while. I still didn't really know what to say though, so I asked the first thing that came to mind.
"Don't you ever get hungry eating only tea and chipatis?"
"Ha," he said. "When hungry I eat banana."
In another time and place I think that the self-depriving-except-for-bananas-(but only if he's REALLY hungry)-holy-man and I could have become good friends but, just then, the bus to Jodhpur thundered to a stop in front of the dhaba. I knew that it wouldn't wait so I hurriedly said goodbye and turned to see Soham, Marion, and Karen already boarding. I bounded down the front steps and into the muddy street but stopped when I heard Sadhu Ranakpur call me from behind.
"Anglez! Your Ray-Bans!"
The sadhu was standing next to our table waving the sunglasses that I had carelessly left behind. As I sprinted back into the dhaba, thanking him with hands in prayer, the faintest smile emerged from his natty overgrown beard.
Peering out the grimy window of the bus I could see that he was still smiling as we started back towards Jodhpur.